What are the things to consider before buying a Pachislo Japanese pokies machine on sale?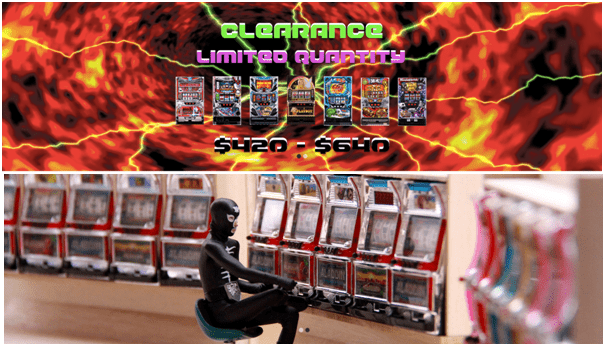 There are various sites that offer Pachislo Japanese pokies machine for sale. Pachislo is actually a name of Japanese company that imports, refurbishes and resells high quality Japanese Pachislo and Pachinko. Pachislo Market and Pachinko Market are the best leading Pachislo and Pachinko store for the fans and needs in the world. At the sites you get many offers to buy these machines which are refurbished and hand cleand by professional spending two to three hours each. You can find over 800 different machines that are lined up with updating new models and shipped worldwide from these pokies for sale sites.
​But many sellers don't tell you exactly about these pokies machines. Like the issues you can face on these used machines or how to handle them when you get these machines on your doorstep. Here are few things to consider before buying a Pachislo Japanese pokies machine on sale.
Look whether the Pachislo Japanese pokies machine has a door key or not.
If there is no door key you need to know how to access the inside of the machine without a key.  If you cannot access the inside then never buy from that seller.  Because you will not be able to change lights, reset the machine, solve coin jams, etc. without access to the inside.  If you know how to open the door with no key, then you can buy it.  
Drilling of the door lock. Also look at the lock.  If the lock is a standard lock held in by two screws that it is very easy to replace.  You can expect to spend about $25 for a new lock and key.  If it has than any small key or flathead scewdriver (unless it's a barrel lock) will work.  This is not really an issue, but if it accepts quarters and not just tokens you will probably want something a little more secure.  If and then expect to spend about $25 for a new lock and key.

The reset key. To operate your machine properly and set the odds you will need either a reset key or a reset switch.  If the machine does not have either than you will need to find a replacement lock or purchase and install a reset switch.  Locks are difficult to find, and if you do find one expect to spend at least $20 for the key.  If you are handy and can replace an outlet in your house you can just purchase and install a reset switch.  You can get this online for about $3.50, and it takes about 1/2 hour to install.

Condition of the bulbs. You need to play the machine for a while to see if any bulbs or light boards are out.  Most times it will be the bulbs.  Easy to replace and you can find them online.  If it an entire board, however, that may be an issue.  Boards can be difficult to locate.  Expect to spend $5 – $15 for replacement bulbs and $15-$20 for boards if you can locate them online.
If the bulbs are behind any of the glass, see how easy it is to access the bulbs.  If you have a problem accessing the bulb it may be very difficult to replace.  Some older models have a wooden cover over the entire inside of the door that requires you to almost completely disassemble the door to replace a light bulb.

Tokens or Quarters. In our last post we have told as how to change Pachislo pokies machines tokens into quarters.Though this has nothing to do with the function of the machine, but many people like the option of being able to use quarters.  If the machine takes quarters it also increases the value of the machine by about 10%.

Only tokens.If the machine accepts quarters this isn't an issue, but most accept tokens only and almost all Pachislo machines take .984″ tokens.  You will need at least 250 tokens, the more the better.  Again therefore you can expect to spend $20-$25 per 250 tokens.

Issues with Pachislo pokies machines. Also you need totest the machine Before you purchase and test it well.  If there are issues that crop up then you will have to return the machine or call the seller right away. Look for issues in Lights boards, error codes, hopper issues, coin mechanism problems and more.  Test ALL functions, even the hopper payout and be satisfied before spending money on such machines.

Rusty Machine. Look for any rust, inside or out on the pokies machines. This means the right indication to for you to walk away.  Rust means it was either water damaged or stored in a damp area.  Remove the hopper and check the metal place underneath for rust.  Check the screws that hold anything to the bottom of the machine as well.  Surface rust might not be an issue, but A LARGE AREA of surface rust means the machine was not well cared for.  You will see problems in the future even if the machine runs well initially if you see a lot of rust.

User Manual of the pokies machine. Though many refurbished pokies don't have original user manuals but sellers do provide a kit for installation or guide kit. You will absolutely need a manual to operate your machine.   A good manual will tell you how to reset your machine, what different error codes mean, how to troubleshoot and repair problems, etc.  The original machine manuals may work for someone with a little experience with pokies machines, but if this is your first machine look for something with more information than the standard ten page general manual.

Buy pokies from a reputed store. Many buyers love to buy pokies machines online so always go for a reputed seller online like Ebay who also have warranties on their machines.  Or buy online from brand gaming pokies machine developers like IGT that also provide technical support to buyers.
Ask the sellers all the details and clear your doubt. Many used pokies machines will have a minor scratches, stains and cigarette burns due to previous use so check that too. Also find whether transformers are installed or not in the machine and ask seller what voltage transformer will be needed to run these machines.
Also if buying offline visit club, or local casino to purchase the old pokies machine that they put on sale from time to time and test before you purchase. Check the return policy and other such terms before buying any kind of pokies machine on sale.