What are hangover pokies machines and where to buy them?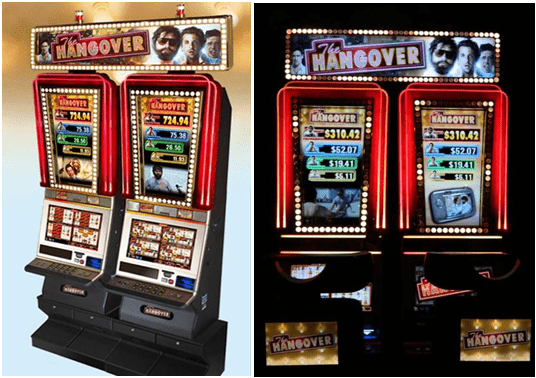 If you are looking for a hangover pokies machine for sale then there are many reputed sellers who have these real pokies machines for sale. Like Aristocrat and other top notch gaming developers, IGT also takes the theme from superhit Hollywood movies and develops wonderful pokies games. Hangover pokies is based on the movie Hangover which was released in 2009. IGT bought the rights to make a Hangover pokies machine for casinos around the globe.
Hangover pokies machine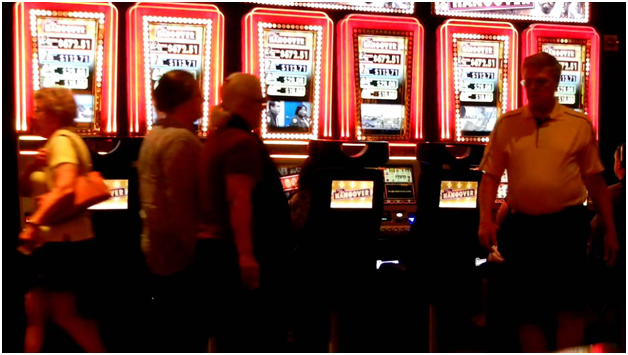 After the Hangover movie of 2009 followed the Hangover Part II in 2011 and the Hangover Part III in 2013. All the hangover movie series had comedy and drama where someone goes missing when they travel. Based on the hit comedy, this IGT pokies features four progressives tied to characters from the film, a base game wild feature, and a number of bonus rounds. You can play on four screens at a time with the multi-play interface, and the amusing voice of Mr. Chow is there to guide you every step of the way.
No matter how many screens you choose, each one has five reels and 30 paylines. Playing one screen costs a minimum of 50 cents, while all four can be enjoyed for as little as $4.
The progressive jackpots in the hangover pokies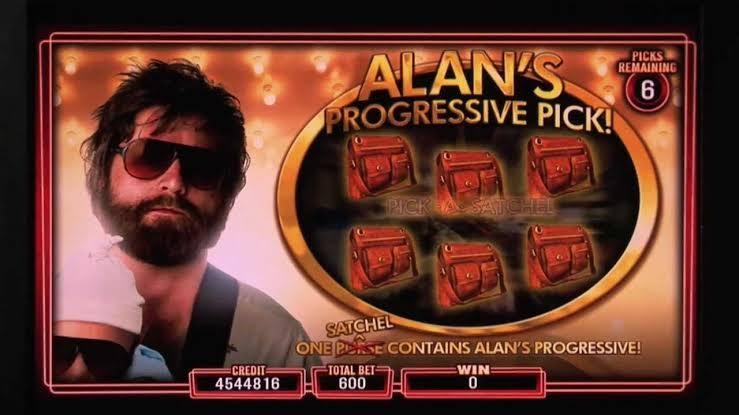 The game includes four progressive jackpots, and each is connected to a member of the Wolfpack. They include the following (in descending order of value):
Alan (Zach Galifianakis) – Described himself as a "stay-at-home son."
Phil (Bradley Cooper) – The most foul-mouthed member of the group.
Stu (Ed Helms) – The dentist with a missing tooth.
Doug (Justin Bartha) – The member who's always getting left behind or misplaced.
Alan's Progressive – There are six satchels on the screen, and one of them contains the current amount of Alan's progressive jackpot. Touch a satchel to select it, but even a wrong choice results in a small payout.
Stu's Progressive – Much like Alan's progressive, except this time you're picking teeth instead of satchels.
Phil's Progressive – Instead of satchels or teeth, this bonus round asks the player to choose from a series of plastic hospital bracelets.
Doug's Progressive – Select from six casino chips in an effort to reveal the hidden progressive payout.
Bonus Rounds and Features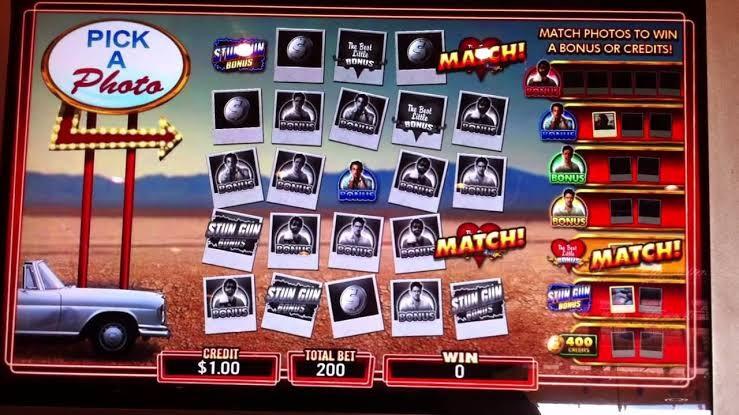 In addition to the winning opportunities found on the base game, here are some of the available bonus rounds and features.
Wedding Chapel Bonus – A number of wrapped boxes are shown on the screen, and each has a prize hidden inside of it. In order to win, you'll need to uncover two items that match.
Stun Gun Bonus – In order to gain credits, you'll need to press the button on the stun gun for as long as possible. Poor Alan is bound to get the shock of his life, but it's all for a good cause.
Mr. Chow's Freaky Free Games – The players receives a number of free spins to begin this feature. Wilds stick to the reels and make it easier to win on subsequent spins. Accumulate seven wild poker chips to unlock the Deal in the Desert feature.
Deal in the Desert – This feature presents the player with three men, all wearing bags over their heads. Your goal is to pick the one containing the real Doug, which awards the largest bonus. Finding characters such as Mr. Chow or the chicken delivers a smaller payout.
Pick a Photo – Eighteen Polaroid pictures are shown on the screen, and you must touch them to reveal a bonus or free credits. Each item requires a certain number of matches to unlock, so make your choices carefully.
Wedding Chapel Bonus – Select an item in the wedding chapel and receive the prize hidden beneath it.
Villa Bonus – Select different items throughout your hotel room to win the hidden prizes. But watch out for the tiger, as inadvertently choosing this symbol brings the round to a swift conclusion.
The Hangover Pretty Awesome pokies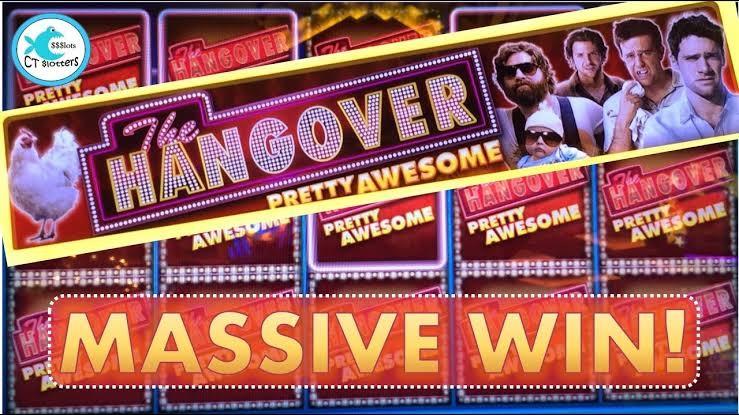 The Hangover Pretty Awesome pokies follows the second in series. The Wolfpack is back in this 2013 release from IGT. Join Alan, Phil, Stu, and Mr. Chow as they once again get into rowdy hijinks in Las Vegas, with numerous audio and video clips included from the highest-grossing R-rated comedy of all time. The game has five reels, 40 paylines, four multi-level progressives, and a wide-area progressive in select jurisdictions.
In both Hangover pokies machines feature Mr. Chow will be your guide.
Just like in the previous game, you'll be guided through events and receive encouragement from none other than Leslie Chow (aka Ken Jeong). If you've never been cheered on by an international criminal and all-around party animal, then you're in for a treat.
Game symbols
Mr. Chow – An eccentric crime figure who walks on the wild side.
Jade – The lovable stripper from the first film.
Doug – The most normal member of the Wolf Pack.
Stu – This normally subdued dentist gets crazy when exposed to alcohol or illegal substances.
Phil – The most handsome member of the Dream Pack.
Alan – A total mental case who's once referred to as "fat Jesus."
Mike Tyson – A former boxer with a noticeable facial tattoo and an obsession with tigers.
Medical Bracelet – The kind you receive after being admitted to the hospital.
Satchel – The fancy man-purse carried around by Alan.
Shot Glasses – Get several of these symbols to unlock the Tiger Bonus.
Chicken – One of these fowls is found in the hotel room after a night of partying.
Game Logo – It simply reads: "The Hangover Pretty Awesome."
Bonus Features
Random multipliers and stacked symbols are included in the base game, and all the spinning icons are taken straight from various scenes in the movie. The real strength of this pokies is the bonus games, however, and here are some of the most notable examples that you'll encounter:
Find Doug Bonus – Get on the hotel elevator and select a button to be taken to a specific floor. Each stop awards a cash bonus, but finding Doug delivers the largest possible payout.
Win It All Back – This group bonus feature allows players to select their favorite character from Jade, Phil, Alan, Stu, and Mr. Chow. A blackjack hand is dealt to each character, and you'll receive a larger bonus by accurately predicting the winner.
Tiger Bonus – The player finds themselves in a luxury Vegas hotel room after a night of partying, and they're asked to select random objects in order to reveal multipliers and bonus credits. Beware of Mike Tyson, though, as accidentally selecting the former heavyweight champ results in a devastating knockout punch and the end of the round.
Twenty digital cameras are shown on the screen, and the player must select them one at a time. A selected camera flips around to reveal one or more photos of the Wolfpack's antics, while the player also receives extra picks or bonus multipliers. The multiplier is added to either Stu, Alan, or Phil, and these are resolved with a spin on a virtual wheel of fortune.
Best Friends Bonus – This group feature is activated when anyone on the bank gets their third bonus chip or lands on two bonus symbols and a Best Friends Bonus icon. When the feature becomes active, you'll be asked to choose one of three poker chips. Each has a bonus round hidden behind it, and your choice determines which one you get to play.
Mr. Chow's Super Sexy Free Games – The player receives five free spins. If one of the main characters comes up during a spin, you'll receive a chance to win their bonus amount. For example, getting two Stu icons allows the player to choose two teeth on the screen. Bonus credits are hidden behind each tooth, but one contains a much larger payout than the others.
Where to buy the Hangover pokies machine?
In Australia, there are many sites that sell these pokies machines online. You can find these pokies machines for sale at many online pokies machines selling sites like Ebay, Alibaba, Amazon or other local sites. You can even visit the manufacturing site at IGT and find out for this pokies machine.